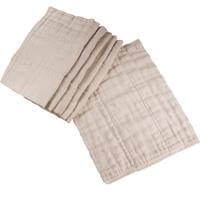 Unbleached Prefold Cotton Diapers, Traditional Size
Regular price
$21.99
Sale price
$38.00
6 Pack of Unbleached Traditional Sized Prefold Diapers - Our unbleached 4x8x4 Indian cotton prefold diapers quilt up nice and thick, are soft, very absorbent and lint free. Unbleached diapers are softer and more durable than bleached diapers. Use a Snappi or diaper pins to hold the diaper in place inside a waterproof diaper cover.
Two sizes available, these WILL shrink 5-10% after washing 
Infant 7-15 lbs, unwashed 12 x 16
Premium 15-30 lbs, unwashed 14.5 x 21
100% cotton, unbleached,
How many cloth diapers do I need? We recommend 2-4 dozen prefold diapers per baby, depending on age and how often you wash diapers. A newborn baby needs a diaper change about 10-12 times a day, but a toddler might only need 4-6 diaper changes a day. If you wash 2 times a week, that means 36-48 diapers for a newborn and 18-24 diapers for a toddler.
Prep diapers before using. Unbleached prefold cloth diapers must be washed and dried on hot at least 3-5 times before they become absorbent. Test absorbency by pouring 1/4 cup of water onto the diaper. If the water pools rather than soaking in quickly, keep washing. DO NOT use fabric softener, which would coat the fibers and cause repelling.