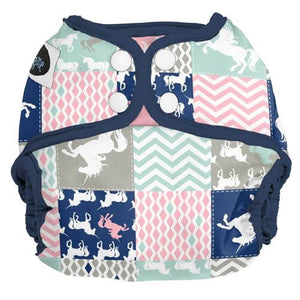 Imagine Newborn Diaper Covers - Snap
Regular price
$5.99
Sale price
$10.49
The Imagine Newborn Cloth Diaper Cover offers an economical way to cloth diaper your newborn. This reusable newborn diaper cover is completely waterproof, yet breathable. It features double leg gussets to contain even the biggest newborn mess. The interior is wipeable so it can be used multiple times before washing! The gathered elastic in the front of the diaper allow room for your little one's umbilical cord stump to heal.
Snap closure version.
To use the cover: 
Adjust front rise snaps to desired size.
Secure over absorbent cloth diaper.
Reuse till soiled or wash day.
Fits approximately 5-13 pounds.
Care Instructions:
Cold rinse or light wash
Warm or hot wash
Tumble low or line dry