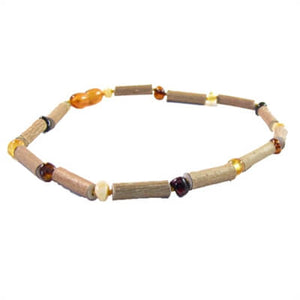 Hazelwood & Baltic Amber Adult Bracelets
Regular price
$19.99
Sale price
$27.99
 Hazelwood jewelry has been used as a natural therapeutic solution to inflammation problems. Research has demonstrated that hazelwood is very rich in polyphenols, molecules known to have antioxidant, antibacterial and anti-inflammatory effects.
Testimonials confirm that hazelwood has helped to ease the symptoms related to oxidative stress and inflammation such as teething pain, digestive disorders, skin problems (psoriasis, eczema, acne), joint pain and mouth sores. 
Baltic Amber contains succinic acid which is a natural analgesic and has been used for centuries to provide localized pain relief.
Screw style clasp

Adult bracelet, 7" in length

Hazelwood & polished Baltic Amber

Please wipe with a clean damp cloth. Do not expose to chlorine, oils or lotions as they can damage the amber.


Disclaimer:
For external use only. Designed to be worn by an adult. Do not put in mouth. This item contains small parts. These statements have not been evaluated by the Food and Drug Administration. This product is not intended to diagnose, treat, cure or prevent any disease.