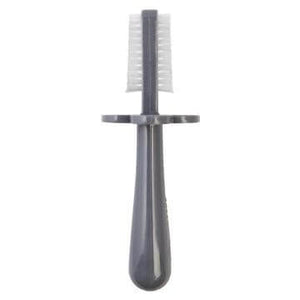 Grabease Double Sided Toothbrush
Regular price
$9.99
Sale price
$12.50
The grabease double sided toothbrush makes brushing baby and toddler teeth faster and safer!
The tapered brush head reaches the most teeth at once, ensuring no teeth are missed.
The choke protection barrier allows your little one to practice brushing safely.
Encourage good dental hygiene from the moment that first tooth comes in with the FREE included silicone baby finger toothbrush! Babies and toddlers don't have the same hand dexterity as adults, which makes brushing their own teeth difficult and discouraging.
Short and stocky handled baby toothbrushes! It fits their little hands perfectly, making it incredibly easy to grasp. With their first toothbrush, they'll learn to brush their own teeth like a pro! 
Package includes finger brush for age 4 months + and toothbrush for age 6 months +