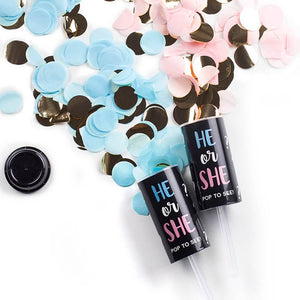 Gender Reveal Confetti Poppers
Regular price
$6.99
Sale price
$9.99
He or she? Pop to see! Have fun unveiling your baby's gender with gender reveal confetti poppers!
These poppers are the perfect way to find out whether you're having a boy or girl! This set includes six poppers; three filled with blue and gold confetti and three filled with pink and gold.
The poppers are all decorated with the fun saying, "He or she? Pop to see!". They each have a removable sticker on the outside indicating if it's blue or pink confetti inside.
To make the announcement, simply have someone who knows the gender of the baby pull the sticker off the correct poppers and hand over to the happy couple.
A fun gift for someone who just found out they are expecting! A perfect addition to your gender reveal party!