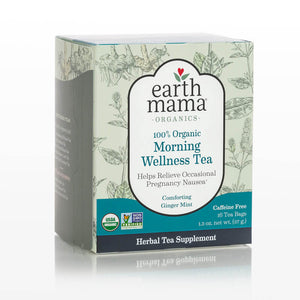 Organic Morning Wellness Tea
Regular price
$3.99
Sale price
$6.29
Organic Morning Wellness Tea is a ginger-minty blend of organic herbs traditionally used to help prevent occasional morning sickness and pregnancy nausea. Formulated for pregnancy (and beyond!) with settling ginger root, chamomile, and lemon balm, a hint of mint and a twist of orange peel for a citrus pop of flavor. Especially comforting when "morning" sickness lasts all day long.
- Comforting Ginger Mint Herbal Tea to Help Relieve Occasional Pregnancy Nausea*
- USDA Certified Organic Non-GMO Project Verified
- Certified Kosher by EarthKosher
- Each teabag comes wrapped in individual packaging — so you can take a single bag on the go. 
- Is it formulated to use while breastfeeding? Yes!
- How many cups can I drink a day? 1-2 cups per day. Always check with your herb-knowledgeable healthcare provider to find out what's best for you.