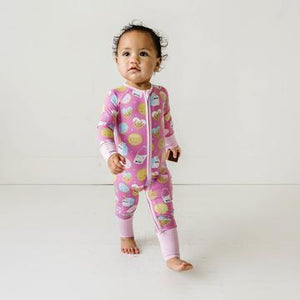 Little Sleepies Bamboo Viscose Zippies - Newborn
Regular price
$32.00
$0.00
Babies and toddlers grow SO fast, so this sleepwear is designed to be extra flexible in sizing!
Little Sleepies zippies have extra length (easily roll up any extra), foldable foot cuffs (traditional footies are so limiting) and super stretch for longer wear! They are designed to fit snug in accordance with all CPSC guidelines (as they are not treated with any nasty chemicals!). 

Made of the softest, stretchiest bamboo fabric that feels like butter. Bamboo is naturally hypoallergenic, antibacterial and regulates body temperature, making it perfect for year-round wear. Gentle on sensitive or eczema-prone skin.
Unique design

 

fits three times longer than the average sleeper
Fold-over hand cuffs

 

in sizes through 12-18 months. Protect your little ones from scratching themselves without having to worry about mitts that never stay on.
Fold-over foot cuffs

 

on all sizes.

 

Instantly turn the romper into a footie and back again.

 

Cover those little feet when they go to sleep without having to worry about sizing constraints of a traditional footie.
Double zipper.

 

Use the bottom zipper pull for those middle of the night diaper changes and you can easily take out baby's legs vs having to totally undress them!
No snaps, buttons or interior tags.

 

Easy for you, comfy for baby!
Extra length.

 

Simply roll up the arms/legs as needed. This, combined with the foot cuffs and extra stretchy fabric allows our zippies to fit twice as long as the average sleeper.
No chemicals. Do you know most pajamas are treated with harsh chemicals that make them flame-resistant? Ours are designed to fit snugly in accordance with all CPSC regulations.


We recommend sticking to true size/age for the Zippy - they run true to size to generous and are designed to fit 2-3x longer than your average sleeper.
95% viscose from bamboo; 5% spandex. Machine wash on cold.