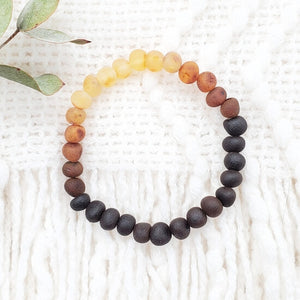 Baltic Amber Bracelet - Adult Size
Regular price
$9.99
Sale price
$24.99
Polished Baltic Amber bracelets are handcrafted with genuine Baltic Amber beads from Lithuania, using only authentic Baltic Amber, the most esteemed type of amber in the world. 
Baltic amber beads are fossilized tree resin found in the Baltic region of Lithuania and Poland. Amber contains 3-8% succinic acid, which may help with pain and inflammation and can be beneficial to wear if suffering from teething, migraines, arthritis, carpal tunnel syndrome, sports injuries, and so much more. 
Adult bracelets are made to stretch (with no knots between the beads) for easy on and off. 
Amber is NOT meant to be chewed on. Avoid exposure to soaps, lotions, baths, swimming pools. Bead colors may vary slightly from what is pictured.
From the company we purchase from ~ Genuine Baltic Amber, guaranteed! Purchasing 'real' Baltic Amber is a concern for everyone and the best way to ensure that your Baltic Amber is genuine is to purchase from a reliable source. We have been working with the same group of Lithuathian Baltic Amber Artisans for years and check each shipment using a UV light (genuine Baltic Amber will flouresce under UV light). Our Baltic Amber is regularly sent to a certified gemologist for testing. 
Disclaimer: For external use only. Designed to be worn only under the supervision of an adult. Do not put in mouth. These statements have not been evaluated by the Food and Drug Administration. This product is not intended to diagnose, treat, cure or prevent any disease.