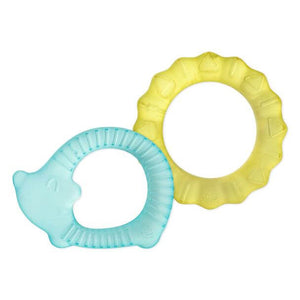 Cool Nature Teethers
Regular price
$6.99
Sale price
$7.99
Cooling relief to soothe baby's gums—Adorable nature-inspired shapes with multiple textures massage gums and relieve teething pain. Chill this cooling teether in the refrigerator for extra relief.
Flexible and safer EVA material filled with sterilized water—Made without PVC and hormone-disrupting BPA, BPS, BPF, BFDGE, NOGE, or BADGE additives for your baby's health and safety.
Encourages sensory learning—This teething toy has a variety of textures and sensations to offer sensory play experiences that encourage whole learning for your little one.
Easy to hold—The teething ring animal and nature shapes are easy for little hands to hold, gum and chew.
Perfectly sized for babies and toddlers—Designed with love for babies 3 months and older.
Always use this product with adult supervision. Do not tie around child's neck as it presents a strangulation hazard. Remove all packaging and fasteners before giving this item to a child. Inspect before each use and discard immediately if any signs of excessive wear, leaks, punctures, or breakage appear to prevent possible choking hazard. Do not heat plastic to avoid leaching chemicals. Cool only in a refrigerator. Do not place in the freezer compartment.
Materials—EVA. Sterilized Water
Care Instructions—Clean before first use and after each use. Wash in warm water with mild soap. Rinse thoroughly. Air dry. Do not microwave, sterilize, boil, or freeze. Do not store in direct sunlight or near a source of heat.