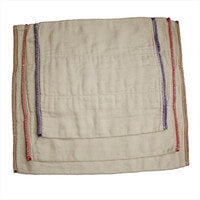 Unbleached Prefold Cotton Diapers, Better Fit
Regular price
$16.99
Sale price
$37.00
6 Pack of Unbleached Better Fit Prefold Diapers - Unbleached 4x8x4 Indian cotton prefold diapers quilt up nice and thick, are soft, very absorbent and lint free. Unbleached diapers are softer and more durable than bleached diapers. Sized to fit inside a diaper cover without folding the diaper lengthwise. Better fits are shorter than traditional fit prefolds making it less bulky and easier to use. Just trifold it into a diaper cover.
Two sizes available - these WILL shrink after washing:
Infant 6-16 lbs, unwashed 12.5 x 13.5
Toddler 25-45 lbs 15.5 x 18.5
100% cotton, unbleached
How many cloth diapers do I need? We recommend 2-4 dozen prefold diapers per baby, depending on age and how often you wash diapers. A newborn baby needs a diaper change about 10-12 times a day, but a toddler might only need 4-6 diaper changes a day. If you wash 2 times a week, that means 36-48 diapers for a newborn and 18-24 diapers for a toddler.
Prep diapers before using. Unbleached prefold cloth diapers must be washed and dried on hot at least 3-5 times before they become absorbent. Test absorbency by pouring 1/4 cup of water onto the diaper. If the water pools rather than soaking in quickly, keep washing. DO NOT use fabric softener, which would coat the fibers and cause repelling.