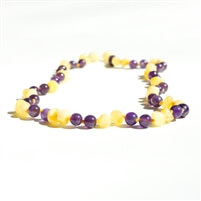 Baltic Amber & Gemstone Necklaces, 14"-15"
Regular price
$19.99
Sale price
$34.99
14-15" - Necklace for 5 years old and older - will generally be a choker for adult
The screw style clasp makes taking the necklace on and off quick and easy.

Please wipe with a clean damp cloth. Do not expose to chlorine, oils or lotions as they can damage the amber.
Baltic amber beads are fossilized resin found in the Baltic region of Lithuania and Poland. Amber contains 3-8% succinic acid, which may help with pain and inflammation and can be beneficial to wear if suffering from teething, migraines, arthritis, carpal tunnel syndrome, sports injuries, and so much more. Our Baltic amber is 100% certified and meets CPSIA safety requirements.
Amethyst (purple gemstones) - ADHD/ADD, anxiety, depression, immune system, stress, migraines/headaches.
Children should wear amber under close adult supervision, and it should be removed when child is sleeping or unattended. Amber is NOT meant to be chewed on. Necklaces are meant to break away at a minimum of 15 lbs. pull force. Every bead is individually knotted. Bead colors may vary slightly from what is pictured. Proper fit is important. Take a ribbon and measure the child's neck. You should be able to insert 2-3 fingers between the necklace and your child's neck. The necklace should NOT be long enough for bring the necklace into his/her mouth. Many prefer to double wrap on the ankle instead.
Disclaimer: For external use only. Designed to be worn only under the supervision of an adult. Do not put in mouth. These statements have not been evaluated by the Food and Drug Administration. This product is not intended to diagnose, treat, cure or prevent any disease.