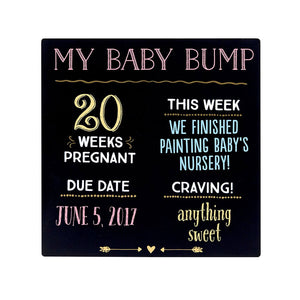 Baby Bump Chalkboard
Regular price
$9.99
Sale price
$12.99
Track your entire pregnancy journey and share every moment of it with a baby bump chalkboard!
This chalkboard is completely erasable and reusable so you can write in your bump updates every week. It's such a fun and personalized way to celebrate and track your pregnancy! Have fun writing in your weekly updates and cravings with the included chalk. And make it colorful! This chalkboard comes with 4 pieces of chalk; including white, blue, yellow, and pink colors.
The chalkboard includes space for you to write in how many weeks along you are, what you and baby did this week, your due date, your cravings, and baby's name. Or write in 'baby bump' to keep it a surprise! It's decorated with gold foil matte design details, adding a modern touch to your pictures.
Have fun writing in the chalkboard and snapping a photo each week.
The chalkboard is small enough to hold and fit in your Instagram pictures.
A perfect congratulations present!
Product dimensions: 10" W x 10" H x .13" D
Track your entire pregnancy journey and share every moment 
Customizable and erasable to use every week
Decorated with gold foil matte
Includes 4 pieces of colored chalk; white, pink, blue, and yellow
Fill in your pregnancy highlights, cravings, and how far along you are
Snap a photo next to chalkboard and share with family and friends
Chalkboard Product dimensions: 10" W x 10" H x .13" D Packaging dimensions: 10.25" W x 12.75" H x .13" D recommended items