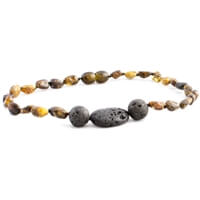 Baltic Amber & Lava Adult Diffusing Necklace, 18"
Regular price
$29.99
Sale price
$59.99
Adult, 18"
Aroma diffusing jewelry! Just add your favorite essential oil to the lave stone. 
Baltic amber beads are fossilized resin found in the Baltic region of Lithuania and Poland. Amber contains 3-8% succinic acid, which may help with pain and inflammation and can be beneficial to wear if suffering from teething, migraines, arthritis, carpal tunnel syndrome, sports injuries, and so much more. Our Baltic amber is 100% certified and meets CPSIA safety requirements. 
Disclaimer: For external use only. Designed to be worn only under the supervision of an adult. Do not put in mouth. These statements have not been evaluated by the Food and Drug Administration. This product is not intended to diagnose, treat, cure or prevent any disease.